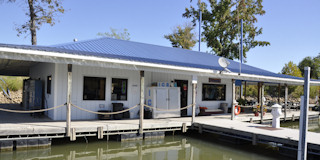 Located on the Tennessee River, the Clifton Marina recently opened after being closed for renovations for over a year. The marina property is made available to the City by the Tennessee Valley Authority. The City subleases the management of the marina to private business, thus creating a successful public/private partnership.
The renovations to the facility included deepening the harbor depth, installation of new boat slips, installation of new fuel tanks, improvements to camping facilities, improvements to the boat ramp, and construction of an onsite restaurant and convenience store.
Over one million dollars in improvements have been made to the facility. These improvements follow a previous project to stabilize the erosion of the riverbank of the marina in 1998. The stabilization project was funded through the City of Clifton and the U.S. Army Corps of Engineers.
Marina Phone Number: 931-676-5225 for more information.