Horseshoe Riverbend Festival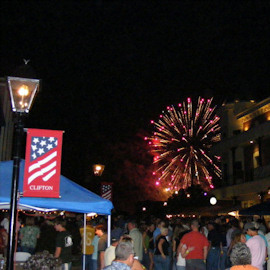 Clifton has been the home of the Horseshoe Riverbend Festival since 1982, and has welcomed visitors from across the world annually every second weekend in September. The Clifton Rotary Club sponsors the Festival and uses the funds raised to support numerous local, state, national, and international charities. The Horseshoe Riverbend Festival has evolved into a three day event. Beginning on Thursday afternoon, a children's night along with a carnival and family centered events are held, and starting on Friday afternoon, vendors offer wonderful food and artisanal products for you to peruse while listening to live entertainment. As the evening wears on, the music is geared toward younger generations, dancing into the night. All day Saturday is the main event; with music and entertainment all day, capping the event off with a spectacular fireworks show and well recognized artists playing their hit songs. Our 'little' festival has doubled the population of Wayne County during the weekend after Labor Day for past several years as we close off Main Street to hold more than 15,000 visitors. We would love to see you at this year's event! You can follow the festival announcements on Facebook by clicking on the following image and adding the event to your Likes. 

For information about vendor spaces please call Denise at 931-676-2024.
For information about the festival in general please call Gina or Tommy at 931-676-3311.
For Information about entertainment please call Warren (931) 676-3985 or use PO Box E, Clifton, TN 38425.
    _____________________________________________________________________________________________________________________________________
Miss Horseshoe Riverbend Pageant

To participate in the annual 'Miss Horseshoe Riverbend' pageant on August 15th and 16th, please print and complete the form below.

Entry Form
_____________________________________________________________________________________________________________________________________
2013 Horseshoe Riverbend Festival Line-up (31st Annual)
THURSDAY, SEPTEMBER 5, 2013

6:00PM – 9:00PM          YOUTH NIGHT
(No Alcohol Permitted)
FRIDAY, SEPTEMBER 6, 2013
4:00PM - OPENING CEREMONY

5:30PM - THE JIMMY SMITH BAND (American Idol)

8:00PM - JOE DIFFIE
(2013 Festival Headliner)
10:00PM - GARY ESCOE'S ATOMIC DANCE MACHINE

SATURDAY, SEPTEMBER 7, 2013
12:00PM - THE TOUCH
1:30PM - BACKWATER
 
3:00PM - DEAD HORSE
 
5:00PM - CONFEDERATE RAILROAD
(Saturday Night Headliner)
7:00 - 12 AGAINST NATURE (Steely Dan Tribute Band) 
**9:15PM - FIREWORKS**
9:45PM - BLACK WIDOW


You can find the latest updates and comments from past festival goers on Facebook, search for "The Horseshoe Riverbend Festival in Clifton, Tennessee" to join the group.  For even more information about this year's festival please call Gina Eason at 931-676-2039.  If you are interested in being a vendor for the weekend please call Denise at 931-676-2024. The Horseshoe Riverbend Festival is sponsored by the Rotary Club of Clifton and all proceeds go to charity.