The City of Clifton Parks and Recreation Department operates three park facilities, as well as maintains numerous landscaping projects throughout the City.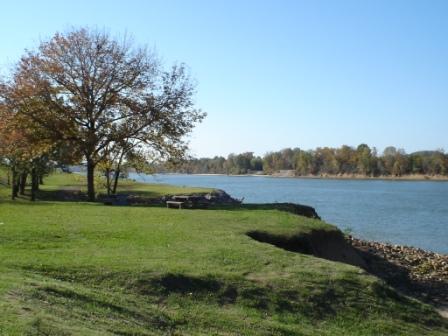 One of the City's earliest parks was developed along the bank of the Tennessee River through a partnership with the Tennessee Valley Authority. The land was made available to the City by TVA in 1969. Since 1976 this site has offered a pavilion for picnics, along with some playground equipment for children. Today a volleyball net is also provided for public use. This site is a beautiful location from which to watch the sunset.
The City also maintains a park at the intersection of Main Street and Water Street. This site was developed as a memorial to veterans who lost their lives in service to our country. A scenic overlook bound by a beautiful stone wall offers another great view of the river. Picnic tables are also available for the public to use.
Iron Gates now adorn the ramp that served as the access to the Clifton Ferry, which for decades offered passengers the only local opportunity to cross the river by automobile. The ferry closed in 1998 when a new bridge provided a more modern mode of transportation.
Just across the street from this overlook is a Gazebo which provides shade on hot summer days. While at this location, don't miss the opportunity to stroll down Main Street and enjoy the sites of the City's largest sidewalk and landscaping project.
Groups interested in reserving the Park Pavilion or the Gazebo for special events are encouraged to contact City Hall. Both facilities are reserved based upon the order in which the requests are received. There is no charge for the use of either of these facilities.
The City's newest facility is the Clifton Recreational Park. It offers three ball fields for community use. The project has been brought together by a collection of donations from local businesses and organizations, state grant funding, and city funding.
The City of Clifton has expanded recreational services at the Clifton Recreation Park. This expansion is the paved walking trail. An application to the State of Tennessee for grant funding assisted in the development of the walking trail. The City is especially proud to host Dixie Youth and Frank Hughes School teams at this site.
Additional property is owned at this site which the City hopes to convert into tennis courts and soccer fields. Everyone is invited to enjoy this beautiful park.